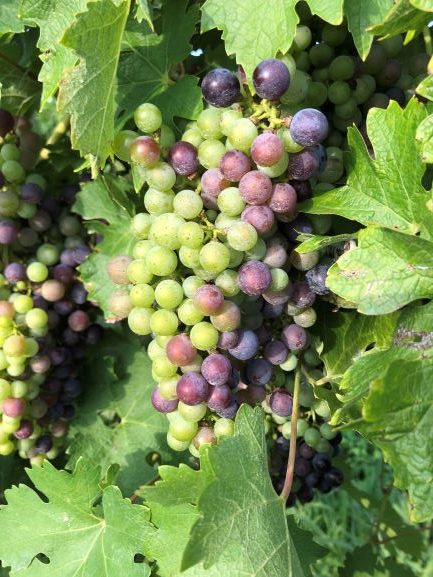 September 2020 – Visiting Us during COVID
09.16.20
We have had a successful, albeit modified, summer season – a huge thanks goes out to our customers for helping us do what we love in a safe way.
Currently, the Tasting bar is open Monday to Thursday  from 10 a.m. to 5 p.m., Friday, Saturday and Sundays 10 a.m. to 6 p.m.
Reservations are required for wine tasting due to space constraints and physical distancing requirements.  Reservations can be made by phone 905-468-8814 – please note that space is limited.
Tasting Bar Procedures:
-Please be on time. If your group is more than 10 minutes past their reservation time, they will forfeit their tastings and will need to reschedule for the next available time slot.
-We have a plastic safety barrier in the tasting bar and purchasing area. Hand Sanitizer is placed at the front door and throughout the room.
-Tastings can be booked for a maximum group size of 6 people. At this time, we will not be accepting larger groups.
-Washrooms are open and are cleaned frequently throughout the day.
-Guests can select 4 wines to taste from a limited wine list. The tasting fee is $5 including HST per a person. The tastings are 1 ounce per a tasting.  We will waive tasting fees with a minimum purchase of 1 bottle per a person.
The Farmhouse Café Patio is open from 11:30 am to 3 pm Monday through Thursday, and 11:30 am to 5 pm Friday, Saturday and Sunday.
We are only offering patio service at this time – with the possibility of opening indoor dining at the end of September or early October, depending on weather.
The Farmhouse Café procedures:
Reservations Only 905-468-8814 – should you walk in without a reservation and we have room, we will happily seat you, but we are not maintaining a waiting list, nor do we have a waiting area at this time.
We have LIMITED available seating due to physical distancing measures.
Patio seating only.  Indoor dining is not available, even with inclement weather.
Maximum group size of 6 people.
Due to the limited seating and operating with reservations only, there will be a 90 minute table limit to allow for appropriate turnover and make room for other guests to also enjoy our patio and food.
Take out will be available on a first-come, first-served basis – depending on kitchen capacity.
Thank you to everyone who has supported us through these past few months, and an advance thank you to anyone looking to visit us in the near future.