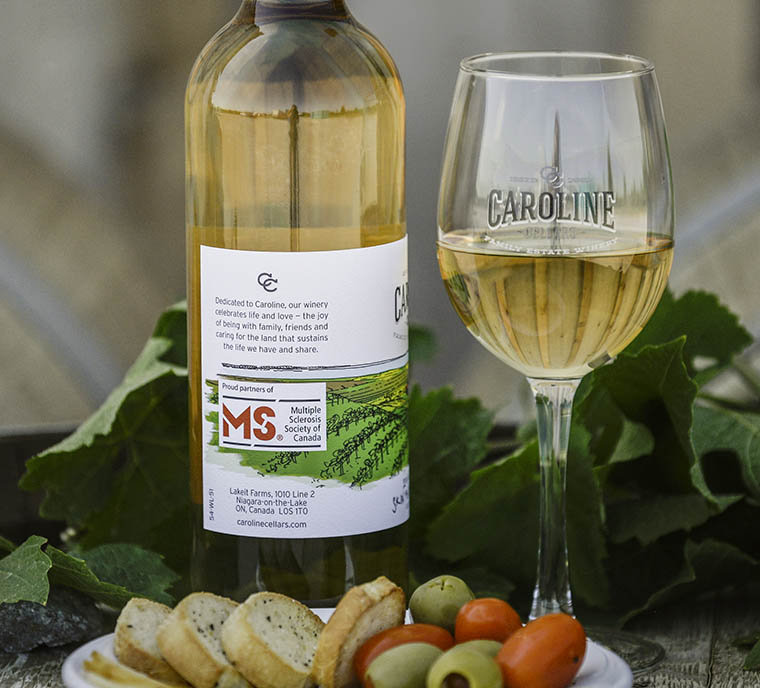 #WeChallengeMS
07.21.20
Today I want talk about a new wine for us – but not only is this wine new, it has a special personal story behind it.  This wine is our 2019 Skin Fermented Vidal.  Skin fermented white wines are also known as orange wines – because the extended skin contact during fermentation lends an orangey hue to the finished wine.  Why ferment white wines on the skins?  It leads to a bigger, bolder wine with a much fuller mouthfeel and a more intense flavour profile.
Our Skin Fermented Vidal has an intense nose of honeyed peach, mandarin orange and ruby red grapefruit.  The palate has plenty of refreshing acidity and a full mouthfeel with flavours of peach, orange and passion fruit, finishing with a palate cleansing ruby red grapefruit notes.
So, what's the personal story behind this wine, you're wondering?
In 2019 I was diagnosed with Multiple Sclerosis – or MS for short.  MS is thought to be an autoimmune disease of the central nervous system (brain, spinal cord). The disease attacks myelin, the protective covering of the nerves, causing inflammation and often damaging the myelin. When this happens, the usual flow of nerve impulses along nerve fibres is interrupted or distorted. A wide variety of MS symptoms can happen as a result of the interruption, depending upon which part or parts of the central nervous system are affected.
The cause of MS is unknown, and there is no cure.  MS is a progressive disease – and each persons progression is different – some progress very rapidly while others progress much more slowly.  Even though there isn't a cure, there are treatments that aim to help slow the progression of the disease.
Orange happens to be the colour of the MS support ribbon.  It was a complete coincidence that we made our first orange wine the same year I was diagnosed with MS – but the more I thought about it, the more it seemed like an opportunity for Caroline Cellars and myself personally to get involved with the MS Society of Canada.
In early January I contacted them about the potential of working together everything came together really quickly, and we are so proud to be official partners of the MS Society of Canada in this endeavor – $2.50 from the sale of each bottle of our 2019 Skin Fermented Vidal goes directly to the MS Society of Canada to support research for treatments and a cure for MS.
This wine is available on-site at our winery in Niagara-on-the-Lake and for shipping throughout Ontario. Click here to purchase now.
We have also set up a donation page for additional donations.  Should you want to contribute to our #WeChallengeMS campaign, click here.
Stay tuned for more collaboration between myself and the MS Society of Canada!
-Justine